Although I am thoroughly enjoying the KFB workout, my day has been feeling a little off since the first day I started off on this adventure. I pretty much dropped every exercise I had been doing previously in order to experience this one much as a newcomer might when they signed up. The problem I starting running into was that my body wanted to do more.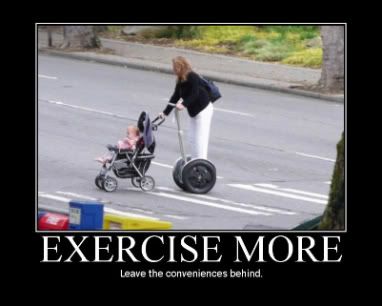 So, as I am wont to do this time of year, I added my lunchtime walk back into my day. It's only for half-an-hour and because I work downtown there's a lot of stops along the route as I must wait for the crossing signal to (more-or-less) allow me to walk in front of the impatient motorists, but it was better than not doing anything.
After two weeks of that, my body gave me the signal that it wanted to do even more. A brief chat with Patrick later, and my pre-KFB morning routine has been returned to the mix. Fifteen minutes of jumproping plus
8-Minute Abs
plus a healthy KFB breakfast means that my morning feels now complete!
I've either got to be a sicko or a health-nut to actually
want
to do more exercise. I'm going to vote for sicko.